| | |
| --- | --- |
| | Free New York Power of Attorney Forms in Fillable PDF | 9 Types |
New York power of attorney forms are legal documents that serve various purposes. All are designed to allow a Principal to delegate powers to another person to oversee a Principal's property or finances, health care, and financial accounts in the event the Principal is unable to be available to make their own decisions.
The forms may be durable (until revocation or death) or they may be restricted or limited only to specific acts, terminating the powers document, once the act is completed.
Laws & Definition – Sections 5-1501–5-1514 (Amended)  – "A Power of Attorney is a legal instrument that is used to delegate legal authority to another. The person who signs (executes) a Power of Attorney is called the Principal. The power of Attorney gives legal authority to another person (called an Agent or Attorney-in-Fact) to make property, financial, and other legal decisions for the Principal. A Principal can give an Agent broad legal authority, or very limited authority. The Power of Attorney is frequently used to help in the event of a Principal's illness or disability, or in legal transactions where the principal cannot be present to sign necessary legal documents."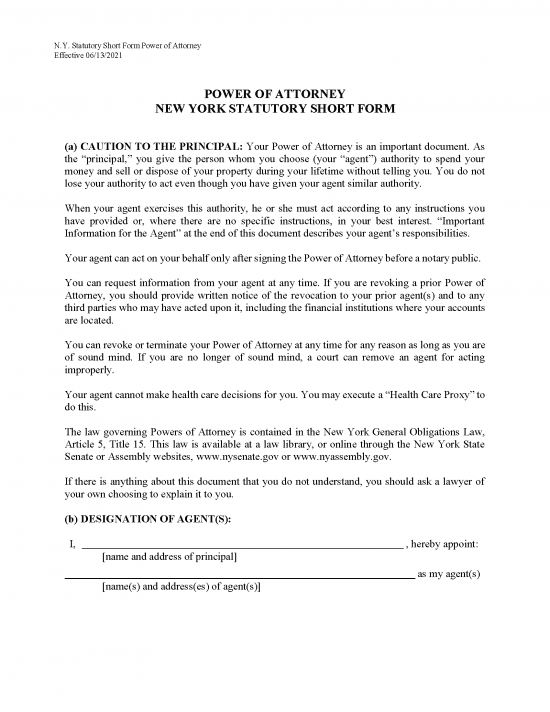 The New York durable financial power of attorney form is a legal document whereas the Principal would grant authority to an Agent of their choosing. Without the Principal specifying, limiting or restricting any of the stated acts, the Agent would have the right to dispose of the Principal's property at their discretion as well, they will have […]