| | |
| --- | --- |
| | Free North Carolina Power of Attorney Forms in Fillable PDF | 9 Types |
North Carolina power of attorney forms  that are intended as to let an individual, known as a 'Principal', to appoint someone else, the 'Agent', to carry-out acts to their benefit related to financial, medical, real estate, tax (State income), vehicle, or on a strictly limited basis. The responsibilities of the Agent depend on the powers granted and the form selected by the Principal.
Laws – Chapter 32A (Power of Attorney)
Execution – The form must be signed by the Principal in front of a Notary Public (§ 32A-1).
Filing – Within 30 days of a Durable Power of Attorney being signed it must be filed with the County Superior Court in the jurisdiction of the Principal (§ 32A-11).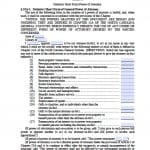 The North Carolina durable financial power of attorney form is a document in which a Principal shall provide one or more Agent's the ability to essentially take over the financials and property of the Principal. Inasmuch as this document is often described as "broad and sweeping," care should be taken by the Principal with regard to what […]